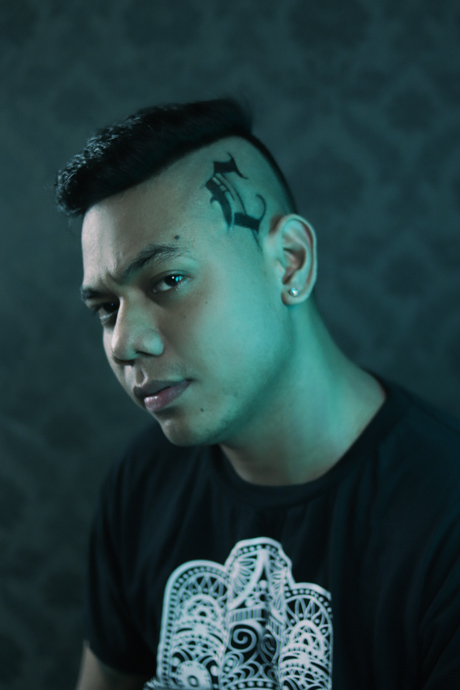 The man behind "D'third Ink" is Ricardo "Dado" David III, a professional tattoo artist and an Industrial Design graduate from Makati, Philippines. In 2013, Dado discovered his interest in tattooing through his college peers and has been supported by his wife, Joyzee, since then. Among other things, he is also skilled in painting which sharpened his craft at tattooing. He earned recognition in competitions such as the Shell Student Art Competition, Metrobank Art and Design Excellence Competition, and Petron Vision National Student Art Competition. While studying, he worked at parties and events creating caricatures and portraits and was even featured at a local TV show.
His wife, Joyzee, a Visual Artist and a Tattoo Artist as well, serves as the creative and marketing head of the D'third Ink. She handles everything from their logo down to their website. D'third Ink sprung in a small studio inside Dado and Joyzee's home, where they began servicing a small clientele. As their craft and online presence gained traction, they earned more clients and has been contributing to the tattoo industry since. ​
About the work
Dado's style is strongly influenced by realism which stemmed from his foundation course in painting while in college. Although his specialty is portrait tattoos, his aesthetic can vary depending on his client's request. He believes that neatness and cleanliness are what makes a tattoo beautiful and that a polished outcome is what matters. Dado's masterpiece is borne out of his and his client's ideas merged together.
He's well-known for his "light hands" when handling the needle. Thus, his light-handedness was the inspiration for their logo as his hand is as light as a quill when applying ink on a skin, as if it was parchment. He also believes in using the proper tools and materials in creating his masterpieces. They ensure this by using the best of rotary and coil machines and by sourcing authentic inks from manufacturers abroad. ​